Contraqer Corp. Partners with Smartware Group to Enable Closed-Loop MRO Procurement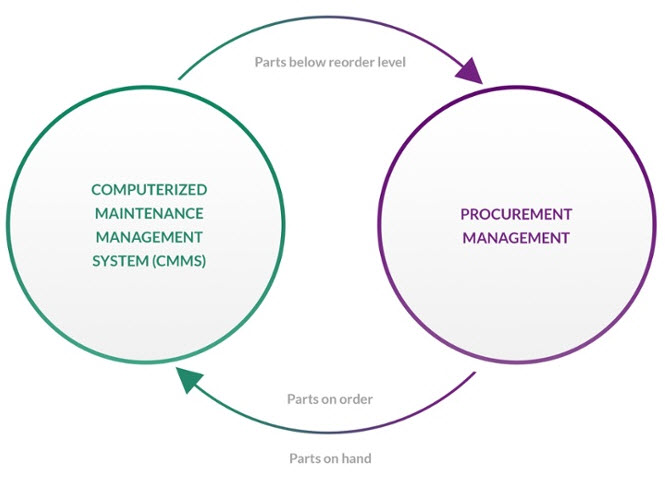 Integration between software systems provides real-time visibility into MRO inventory to increase uptime and reduce costs.
Arlington, VA (March 22, 2017) -- Contraqer Corp., a cloud procurement management solution provider, today announced its partnership with Smartware Group, producer of the modern Bigfoot CMMS solution for maintenance organizations worldwide. Together they are offering joint users the ability to centralize and automate the entire maintenance, repair and operations procurement process, effectively achieving Closed-Loop MRO Procurement.
The partnership weaves the purchasing module of Bigfoot's award-winning CMMS with the Contraqer procurement solution through the newly-released Bigfoot Integration Suite. The integrated platform automates maintenance and procurement process workflows by automatically creating RFQs for items below reorder point. It also automatically updates Quantity on Order information when orders are placed. And it decrements Quantity on Order Information and increments Quantity on Hand information when parts are received. Organizations can now benefit from the powerful capabilities of each system, eliminating the need for manual entry and strengthening data integrity. Closed-Loop MRO Procurement offers multiple benefits including:
Fewer parts outages which results in higher uptime and more reliable assets & equipment

Fewer emergency shipments, resulting in lower shipping costs

Lower inventory levels, resulting in both lower working capital utilization and lower depreciation expense

Lower purchase prices, resulting in a lower overall maintenance spend

Lots of time saved and more accurate inventory information through the elimination of tedious, manual work
"There is too often a gap that exists today between CMMS & EAM solutions, which serve as the 'system of record' for maintenance & reliability operations, and the procurement function," said Paul Lachance, president of Smartware Group. "This gap impacts the quality and communication of data flowing across an organization and prevents companies from realizing the full potential of closed-loop MRO procurement -- which translates into real cost savings."
Contraqer enables users to automate the entire procurement process from RFQ creation through PO issuance to receiving, returns, and pricing & support contract management. Through FedEx and UPS integration, users can even request an order pick-up and print shipping labels from the plant floor.
Research from the Aberdeen Group shows companies that combine real-time asset data, predictive analytics, and continuous improvement experience 12 percent less unscheduled asset downtime and 15 percent higher operating margins compared to those that rely on outdated technologies and methods.1
"MRO organizations that actively manage their procurement process can save 9% to 25% on their parts spend and improve their uptime. The integration between Bigfoot and Contraqer makes this active management not just possible but easy" said Dwight Gibbs, founder and CEO of Contraqer.
In addition to serving as the technological backbone for the preferred Bigfoot procurement MRO partnership, the Bigfoot Integration Suite also connects Bigfoot CMMS with other systems such as ERP, accounting, HRMS, asset monitoring solutions and more. The Integration Suite provides a variety of integration options, from simple import-export to dynamic API automation.
Interested and potential users can attend two webinars to learn about the integration. "MRO Procurement Webinar: Learn How Closed-Loop MRO Procurement Saves Time and Improves Uptime." is scheduled for March 30 at 2:00 p.m. EDT and March 31 at 11:00 a.m. EDT.
About Contraqer
Established in 2012, Contraqer offers a cloud-based procurement management solution. Its products are designed and built by procurement professionals for procurement professionals to reduce spend and remove friction from procurement. Contraqer provides everything procurement team needs to manage the entire purchasing process – from requests to vendors through invoicing, payments, and receipt. Contraqer offers advanced data visualization to eliminate mistakes before they happen; benchmark pricing internally & externally; and improve clients' negotiating power. Contraqer also provides flexible integrations to numerous applications including Bigfoot, Salesforce, Microsoft Dynamics, Netsuite, QuickBooks, FedEx, and UPS. Thanks to Contraqer's flexible configuration and user-friendly interface, clients can be up, running, and productive within a matter of days. For more info, visit: http://www.contraqer.com/
About Smartware Group, Inc.
Smartware Group, Inc., headquartered in Center Harbor, N.H., produces Bigfoot CMMS for manufacturing, distribution, data centers, hospitality, mining, and energy & utilities industries.
Since 2002, Bigfoot has helped users worldwide improve facility and equipment maintenance operations with advanced capabilities that include a mobile app, safety/EHS, preventive maintenance (PMs) and predictive maintenance, work order scheduling, maintenance requests, asset lifecycle management, parts replacement inventory, and built-in reporting. Bigfoot CMMS' native functionality paired with its intuitive design allows maintenance professionals to implement the solution and get results quickly, often in a matter of weeks.
The Bigfoot solution earned a 2015 "Product of the Year" Gold award by Plant Engineering magazine, and previously won a Bronze Stevie® Award during the 11th Annual International Business Awards in the Best Interface Design category. Experience the Bigfoot difference by accessing a free trial today.
1Reid Paquin, Research Analyst, Aberdeen Group. "The Importance of Inventory Optimization and MRO"
###