4 Reasons for SEWP's Continued Success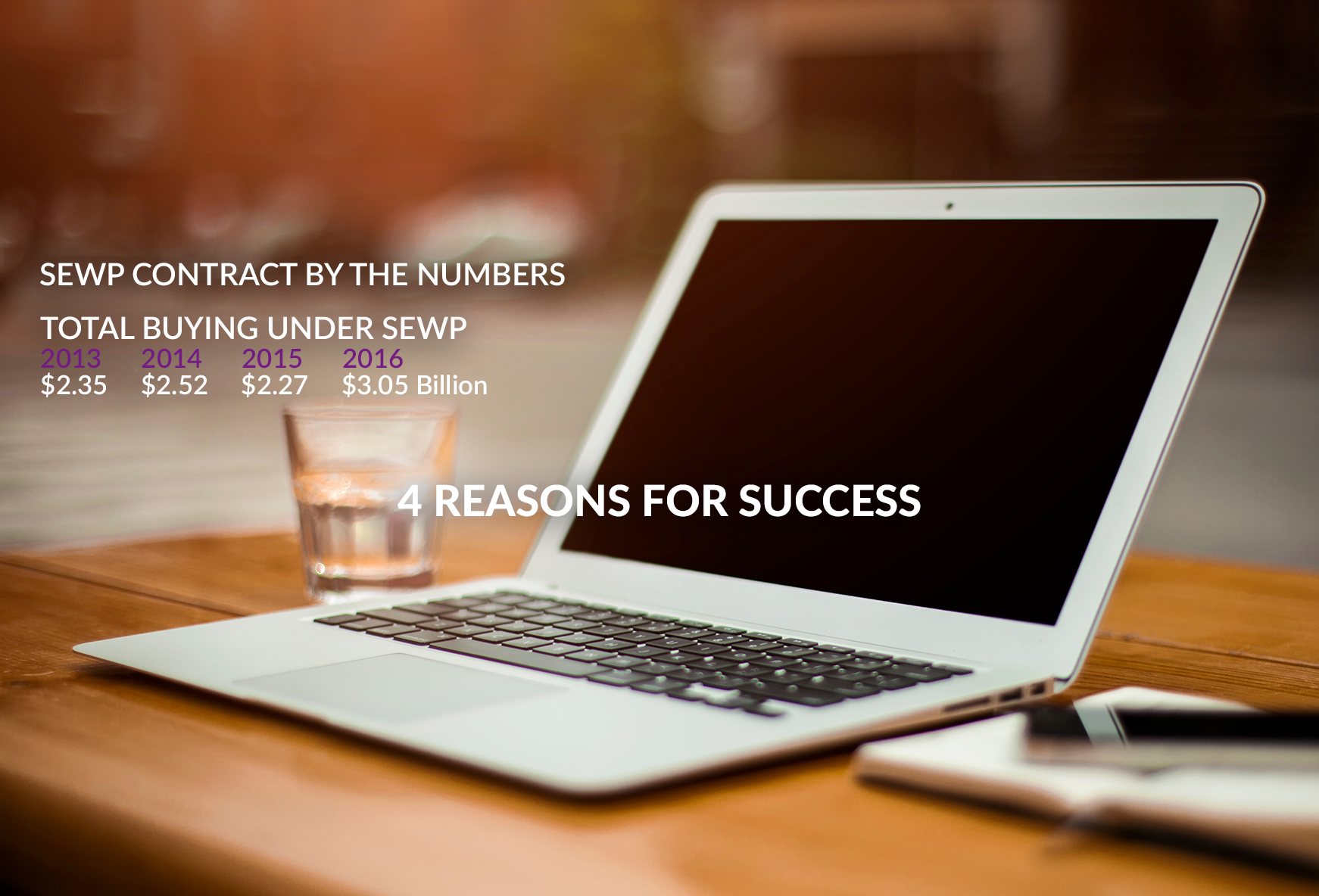 ---
With the Federal 2016 fiscal year in the rearview mirror, NASA's Solutions for Enterprise Wide Procurement (SEWP) can look back on another record-setting performance, proving once again that it is among the favorite procurement vehicles for government agencies and contractors alike. SEWP's PM, Joanne Woytek, has built a reputation for running a smooth operation, unusually fast and responsive, that stands above other Government-Wide Acquisition Contracts (GWACs). Before 2017 grabs all of our attention it is worth pausing a moment to give credit where credit is due.
In FY2016, SEWP racked up 28,984 orders—16% more than in FY2015. These orders were valued at more than $3B—a substantial 34% increase over FY2015— and came from more than 250 individual offices in 62 different agencies, also new records.
Why has SEWP been so successful? Not surprisingly, there are several factors behind SEWP's stellar growth.
---
Transparency: The SEWP website lets government buyers see which contract holders are selling which products at what prices. This clearinghouse of up-to-date information facilitates fast and accurate market research, giving agency buyers confidence that their RFQs will receive good responses—a critical element of competitive procurements.
Client Service: SEWP PM, Joanne Woytek, and her team have refined their contract and back-office systems, investing significant time and effort in both government buyers and industry contractors. SEWP office personnel are knowledgeable and provide exceptional support, going the extra mile to remove obstacles and explain contract procedures. They are also prompt. Inquiries to the SEWP support phone number and email address are answered in minutes or hours—not days or weeks.
Quick & Easy Contract Management: The SEWP team revamped its backend systems 18 months ago to make it easy for contract holders to update their catalogs of available products. In most cases, items are approved for addition or removal in only minutes.
Low Cost: The SEWP contract fee of 0.3885% is extremely low by GWAC standards, making it very attractive to agency buyers on tight budgets. Contractors are well aware of this advantage and, when given the choice, will present a SEWP option to their customers whenever possible.
The result is a Win-Win-Win scenario:
Taxpayers win because margins on SEWP awards are in the mid- to low- single digits on average.
Government buyers win because they get multiple, timely, competitive bids for each of their RFQs.
Contract holders win because of the large number of RFQs being issued through SEWP.
It is not surprising that many of the incumbent contract holders from SEWP IV are thriving on SEWP V. Alvarez & Associates is the #1 SEWP contractor with almost $300M in sales. WWT and Thunder Cat are close behind, each with revenues in excess of $270M. What is striking, however, is how many strong businesses are being built by new awardees. V3Gate, a Colorado-based service-disabled veteran owned small business, is ranked 15th with more $83M in sales, while FedBizIT, a Virginia-based HUBZone small business, is punching way above its weight with $40M in sales.
SEWP's growth shows no signs of slowing. On the contrary, it appears to be accelerating into FY2017. As more government buyers realize excellent results with SEWP, word quickly gets out and the contract's success snowballs, attracting even more buyers. With Oracle leaving the General Services Administration's schedules program and other manufacturers following its lead, SEWP is the natural choice to pick up the slack. For all of these reasons, it appears that the future is bright for SEWP.
---
Built for government contractors, Contraqer Channel streamlines and automates not only your workflow, but also reporting, making government contract compliance easier, faster, and more accurate. Manage your clients, contracts, catalogs, quotes, and fulfilment all in one interface.

Request a demo to learn how you can more efficiently manage TRs, price negotiations, quote margins, and fulfillment.
---
JOIN OUR
MAILING LIST
RELATED POST